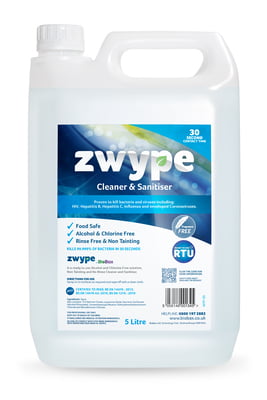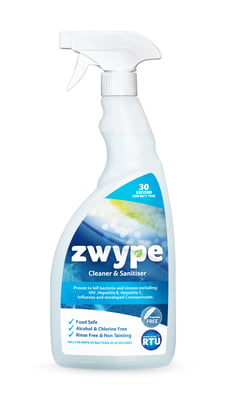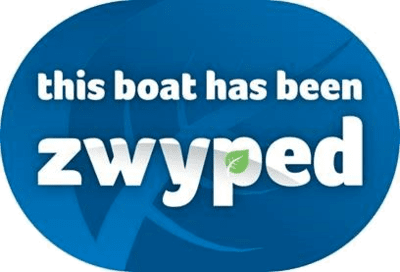 Zwype
Zwype; the ultimate cleaner and sanitiser suitable for boats and other club equipment.
Product Details
Specifications
Return to Sport guidelines stress the importance of sanitising any shared equipment and spaces to minimise the risk of Covid transmission but how can this be done without using chemicals and soaps which impact our lakes and the marine environment?
Enter
Zwype which is formulated to be quick and effective to use against virus' and bacteria; while having minimal effect on your equipment and the environment.
Zwype is a ready to use anti-bacterial and virucidal, alcohol and chlorine free solution for cleaning and sanitising. Non-tainting, with a no rinse formula, Zwype can be used on all hard surfaces to kill bacteria and viruses including enveloped viruses.
Unlike many sanitisers Zwype is PH-neutral.
Zwype has been extensively tested and can be used safely by everyone in indoor and outdoor environments, including food preparation areas.
Zwype can be applied using a spray to quickly and efficiently sanitise a large range of surfaces. The following are just some of the scenarios where Zwype will be of help in sailing clubs and centres.
Sanitising dinghies during a course or between hire users.

Sanitising Fireflies (or other boats!) during changeovers at a team racing event.

Sanitising dinghy trolley handles before and after assisted launching.
Sanitising safety, coach and support boats between use by different staff, members and coaches
Sanitising shared equipment such as Buoyancy Aids, Foul Weather gear and more.
Sanitising Keelboats between crews at Match Racing or Short Course racing events.
Sanitising and Cleaning Classrooms, Changing Areas or Toilets as part of the wider cleaning routine.
Cleaning and sanitisation of Kitchens and Galley's as part of the wider cleaning routine.
Further Information
Other Sizes:

Zwype is available in

750ml, 5 litres, 20 litres, 208 litres and 1000 litres.


For sizes not listed please contact us for pricing and delivery arrangements.
For orders of greater than 10 litres, please select out-of size delivery at checkout; we will contact you with delivery options.